NIOS OPEN SCHOOL ADMISSION STARTED FOR APRIL 2023 EXAM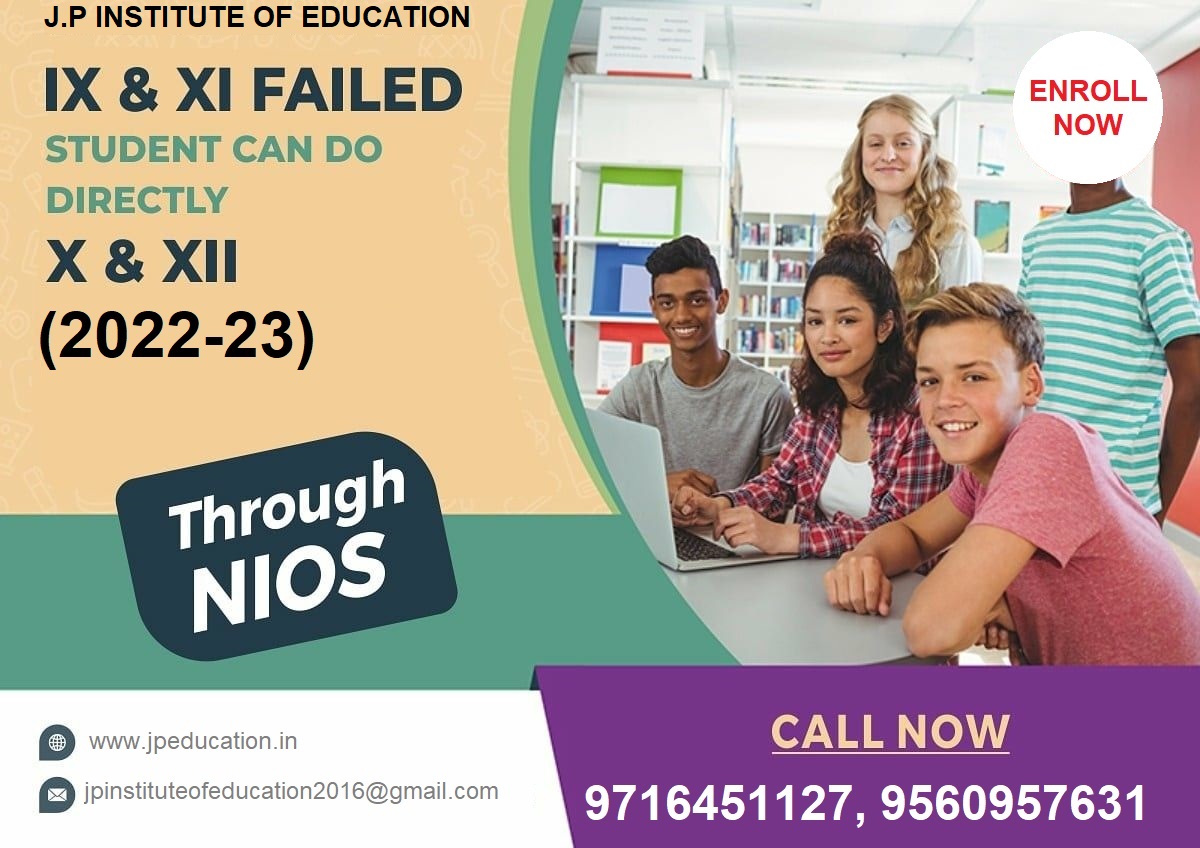 Students who want to complete their 10th & 12th education without going to any regular school. they can apply now for admission in the 10th & 12th classes from open school.
We at J.P institute provide Open school admission & guidance services for all students and provide study material and I-card & Admit card and exam-related information timely.
There is no maximum limit of age those students can apply also who had a long gap of study and now they want to do complete 10th & 12th so this is the golden opportunity to save to the year and complete the basic education and fulfilling career.
Students can give exams all over India. if they want to Nios board provide this facility to give exams in every state of India. so interested students can contact us now
Advantages of Taking Admission in Nios board Open school
Flexible examination system- 2 public examinations in a year (APRIL & October)
Choice of subjects combinations
Additional subjects
Combination of Academic and Vocational subjects
Affordable fee structure
Dual enrolment and part admission
Self-instructional material
Audio, video programmes
Community Radio
Credit Accumulation facility for 5 years
Personal Contact Program (PCP)
Tutor Marked Assignment (TMA)
On Demand Examination (ODE) – Give every month exam
Transfer of Credits upto 2 subjects Passed from other boards
Freedom to learn multiple languages and subjects
Many Vocational Courses
Skill Training Courses
ADMISSION OPEN FROM 1st ARPIL 2022-23
For more information for admission & and guidance please contact us on +91 9716451127, 9560957631
https://jpeducation.in/nios-online-form/
https://niosboardadmissions.blogspot.com/
https://niosboardadmission.business.site/
E-mail – jpinstituteofeducation2016@gmail.com
Follow us :-
Facebook – https://www.facebook.com/admissionforopenschool
Twitter – https://twitter.com/jpie20
Instagram – https://www.instagram.com/jpinstituteofeducation/
Apply Now
[captainform id="1046149″]
——-tags——
11th fail students can take direct admission in class 12th in kaushambi | 7th, 8th, 9th fail can take direct admission in class 10th in vaishali | Open school admission 10th and 12th in mundka | Open admission online student from nios in nangloi | Complete your 10th, 12th, graduation, post graduation in udyog nagar delhi | is nios valid board? Can i get admission in college? In peeragarhi | nios online registration 2022-23 APRIL session admission in paschim vihar | national institute of open schooling | nios admission for 2022-23 in madipur | nios online admission 2023- 2023, nios admission details in ashok park main | nios admission 2023 open online form 2022-23 (एडमिशन ओपन है) in Punjabi bagh | Nios online admission under stream one for APRIL 2023 exams in shastri park | Nios online admission 2022-23 for secondary & senior secondary in mansarovar park | quality assurance and accreditation in distance education in vinod nagar | last date of  nios admission for 10th & 12th class in daryaganj | Nios admission 2023: open online 2022-23 APRIL session (दाखिला जारी है) in kidwai nagar | Nios admission (2022-23) 10th 12th all streams for 2022-23 in inderlok | Do 10th & 12th, 10th/12th, from nios/open school Confirm admission in barakhamba road | State open school: the national institute of open schooling (nios) in mandi house | Apply for 10th,12th from nios in pragati maidan | National open school admission form last date – 2022-2321 in indraprastha | National open school admissions to 10th and 12th classes in Yamuna bank | Nios admission 10th,12th 2022-23. – 9th,11th fail do 10th, 12th nios‎ in laxmi nagar | Nios admission in 10th 12th – 9th 11th failed can pass 2023 in nirman vihar | Nios open school solved assignments in online & offline 10th in preet vihar | Supporting documents required for admission in nios stream 1 in karkarduma | Admission in nios with stream1 for class 10th and 12th is open in anand vihar