Nios Online Admission Form For 10th & 12th Class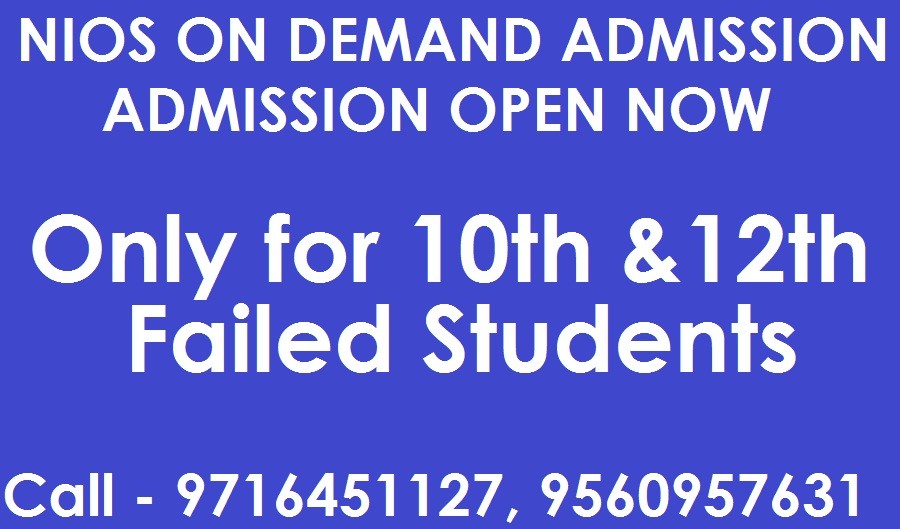 Want to Apply Nios Open Board Online Admission Form for 10th & 12th class? If you want to take admission in Nios Open School with J.P INSTITUTE OF EDUCATION. So we will guide you about everything regarding your admission like syllabus I-CARD, TMA FILES (Tutor Mark Assignment), PRACTICAL FILES, Date Sheet, Hall ticket, Exam Center, Exam Result etc… Below we have provided an application form for enrollment. Just Fill the Online admission form for 10th & 12th Class. If you have any doubt regarding nios admission for 10th & 12th class and on demand exam and toc etc. so please feel free to contact us we will guide you the whole procedure.
If you are a new student and you are going to apply Nios Board admission for 10th & 12th. But you don't know about the admission procedure & eligibility criteria and fees and age limit, required documents so you can contact us.
Fill Nios Open School Admission Form (Click here ✔)
---
Golden Opportunity for 10th & 12th Failed Students | Give exam same year 
There is great news for children failing in the examinations of the 10th and 12th exams. Now they do not have to worry about getting frustrated or worsening the year. They have a chance to read and pass them, without losing their year, they have an opportunity to pass in these examinations. Within 30 days of coming to the results.
Nios Open School provided an opportunity to save all such students from frustration. They can apply through J.P INSTITUTE OF EDUCATION within 45 days of coming to the result. They only have to give exams of failing subjects. That is, if you have failed in all subjects in the five subjects of the 12th, then all the subjects will have to be examined. If only fails in some subjects, then there should be any other subject with those two subjects. That is, it will be necessary to have at least three subjects with the failures in the examination. In this entire process, the number of failed students has also arranged for the transfer of credit (TOC) marks.
At the same time, there has been an opportunity for such failed students of 9th and 11th, who have been left out of school after two years failing. In this way they can improve their mistake with the help of Nios Board can apply for 10th & 12th class for 2024 march/april examination.