NIOS OPEN SCHOOL ADMISSION FOR 10th CLASS (SECONDARY)
Those students who have failed in 8th & 9th class and want to take Direct Admission in 10th class from nios open school. So you don't need to go to regular school again in the same class. You can save your valuable year by taking admission in Nios board with the light & easy syllabus and Nios value is the same as CBSE.
If you want to change subjects so you can choose the subject as per your choice which you want to study. There is no upper age limit but the candidate's age should be complete 14th years. A candidate can choose the medium of study as per his/her choice.
This Course is equivalent to the 10th (Secondary) standard. You can choose subjects from the Scheme of Studies given in Table-. However, you will be required to successfully complete a minimum of five subjects with at least one language or at most two languages, which is compulsory for passing certification.
For Passing Certification, a minimum of five subjects including at least one language or almost two languages are compulsory and three main subjects including vocational subjects from groups B & C. This course is equivalent to the 10th (secondary) standard.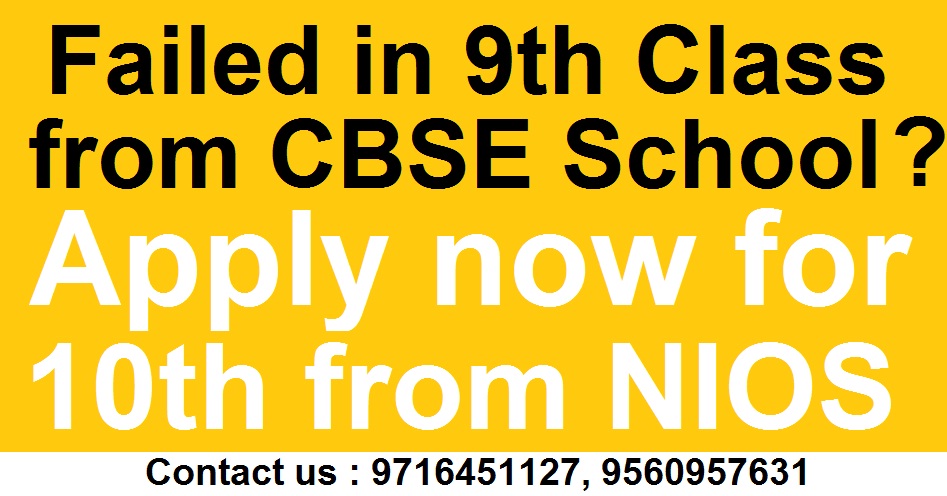 Groups
Subjects
A
1. English
2. Hindi
3. Urdu
4. Bengali
5. Telugu
6. Gujarati
7. Kannada
8. Punjabi
9. Nepali
10. Assamese
11. Marathi
12. Sanskrit
13. Malayalam
14. Odia
15. Arabic
16. Persian
17. Tamil.
B
1. Mathematics
2. Science and Technology
3. Social Science
4. Economics
5. Business Studies
6. Home Science
7. Data Entry Operations
8. Psychology
9. Indian Culture and Heritage
10. Accountancy
11. Painting
12. Data Entry Operations.13. Hindustani Music
C
Vocational Subject (Select Anyone compulsory)

256-Bakery and Confectionery
608-Basic Computing
612-Beauty Culture and Hair Care
640-Beauty Therapy
605-Cutting and Tailoring
613-Desk Top Publishing
606-Dress Making
641-Hair Care and Styling
642-Hand and Foot Care
628-Indian Embroidery
614-Yoga
Required Documents for Nios Open School Admission in 10th Class (Secondary):
8th or 9th Class Pass School leaving certificate should be signed by the principal & Gazette officer the competent education authority

Address Proof (Aadhar Card)/ Rent Agreement (if rented)

Cast certificate (if belongs to OBC, SC, ST category)

Certificate from a Government Hospital for a handicapped person

Original failure/compartment Marksheet of class 10th for TOC (Transfer of credit)

Two Latest Coloured Photographs (Passport Size)
Subjects with (*) have theory as well as practical works.
Related Links