Admission is Open for 10th & 12th Class in Open Learning School in Pan India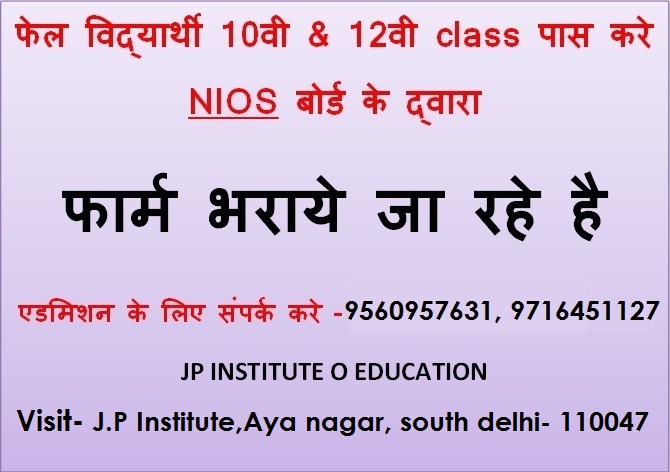 A consulting institute for open school courses would typically offer various services and support to learners who are enrolled in open schooling programs, such as those offered by the National Institute of Open Schooling (NIOS) in India or similar institutions in other countries. Here are some key aspects such an institute might focus on:
Guidance and Counseling: Many learners in open schooling programs might benefit from personalized guidance and counseling. Consulting institutes can provide assistance in course selection, study planning, and career guidance based on the individual needs and goals of each learner.
Enrollment and Registration: Consulting institutes can help students with the enrollment and registration process. This might involve assisting students in selecting the appropriate courses, filling out necessary forms, and ensuring that all documentation is in order for enrollment.
Study Material: Open school courses often provide study materials, but consulting institutes can supplement these materials with additional resources, study guides, practice papers, and other materials to enhance the learning experience.
Tutoring and Coaching: Some consulting institutes might offer tutoring or coaching services to help students better understand the course content, prepare for examinations, and improve their academic performance.
Flexible Learning Support: Open schooling is known for its flexibility, and consulting institutes can provide support to learners who might have difficulty managing self-paced learning. They might offer structured study schedules, time management techniques, and regular check-ins to keep students on track.
Mock Tests and Assessments: Consulting institutes can conduct mock tests and assessments to help students gauge their progress and readiness for the actual examinations. This can boost students' confidence and help them identify areas that need further improvement.
Technical Support: As open schooling often involves online components, consulting institutes can assist students in navigating online platforms, accessing study materials, and troubleshooting technical issues.
Exam Preparation: Consulting institutes can offer specialized exam preparation sessions, covering exam strategies, time management during exams, and tips for answering different types of questions.
Parental Guidance: For younger learners, consulting institutes can offer guidance to parents on how to support their children's open school education effectively.
Updates and Notifications: Keeping students informed about important dates, exam schedules, and any changes in policies or procedures is crucial. Consulting institutes can serve as a channel for communicating such information.
Remember that the specifics of a consulting institute's services might vary based on the target audience, the courses offered, and the educational context. It's important to align the institute's offerings with the needs of the learners and the requirements of the open schooling program they are associated with.
For more information for admission & and guidance please contact us on +91 9716451127, 9560957631
https://jpeducation.in/nios-online-form/
https://www.niosadmission.com/
https://niosboardadmissions.blogspot.com/
https://niosboardadmission.business.site/
E-mail – jpinstituteofeducation2016@gmail.com
Follow us:-
Facebook – https://www.facebook.com/admissionforopenschool
Twitter – https://twitter.com/jpie20
Instagram – https://www.instagram.com/jpinstituteofeducation/
Nios admission, open school, nios exam, nios result, nios exam fee, nios online admission, open school admission, cbse patrachar admission, value of nios board, nios 10th & 12th class admission, nios open school admission, nios on demand admission, online admission nios, open school exam, school of open learning, nios board exam, nios admission last date 2023-24, online nios admission center, nios admission center in delhi, jp institute of open school, nios on demand exam